Robert, Rachel, Daisy & Kitty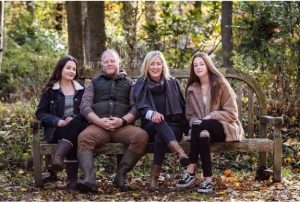 We are a dedicated family who truly love pets.
We own and run our pet cremation service in a manner that we would expect for our own pets when the time comes. Your pet will receive the total respect and dignity that they deserve.
We are a private little cremation service with a big heart (not commercial or multi-national).
We have been in the pet industry since 2001 and still provide loving care to dogs at our privately owned boarding kennels. We will give all our love and attention to your pets whilst alive or sadly passed away.
During our time of caring for so many pets we have come to realise the heartache and stress caused by the loss of a beloved family pet. Restful Pets was created to provide a supportive and caring service during such a difficult time.
Both our Restful Pets and Brickyard Farm Kennels are on Facebook for you to follow us and to see honest reviews.
I would like to take this opportunity to wish you well at this time of sadness and hope that your pet will rest in peace. Robert.